Truck drivers are the backbone of Roane Transportation and the modern US economy alike. Tractor trailers haul nearly 70% of all the freight that is shipped in our country and so without truck drivers, America would come to a screeching halt. Still, it's easy to overlook some 7 million drivers out there on the highways and byways that help deliver the critical goods that keep the country running. Today we sat down with a regional truck driver, Taylor Kindred, to get a better sense of what it's like to be a career driver and what attracted him to Roane Transportation.

What is it like being a truck driver?
"Well for me, I'm living the dream man. Driving a truck is what I've always wanted to do. It's sometimes hard to be away from your family, but at Roane Transportation, it's like a family, and they understand that you want to be home on Friday, so it works out pretty well."
How did you get started at Roane Transportation and what are your favorite things about working there?
"I started by working as a welder at the Roane Transportation shop doing welding on trucks and trailers. The owner knew that I ultimately wanted to drive and helped me get my CDL license. I've literally been around trucking all my life, and it's all I wanted to do. It's kind of a family business starting with my father who drove trucks for a living. "
"I run a regional route, so I typically haul loads to Nashville, Kentucky, and Georgia; generally, I stay in the Southeastern US. We'll drop one load and reload and go back to the yard every day, so I get home more than most drivers do."
What type of truck driver are you and how does it differ from the other types of commercial driving?
"We pull primarily flatbed loads, oversized loads, overlength loads, general freight lumber, and other things like rock, and the pavers that you use to pave your walkways. There's a lot of work that goes into it this type of truck driving. With regular home goods that are shipped by van, you just open the doors, load up, close the doors and hit the road. Opposingly, when you're hauling 45,000 lbs. of coiled steel, you have to constantly ensure that the load is secure and that nothing goes anywhere."
What is a "pre-trip" inspection and what does it consist of?
"With the pre-trip inspection, you have to do a walk around and make sure all your lights are working, there's no oil leaking, all chains and straps are good, nothing has moved or will move, and that your truck and load are ready to go safely."
What is the most challenging part of being a professional driver? What's the most rewarding?
"The most challenging part is just dealing with other drivers on the road. You'd be surprised how often trucks get cut off. I'll give you an example, I'm about to drive through Atlanta, GA delivering a load from Commerce, GA and I'll probably be cut off at least 5 times. It's for this reason that I don't think people realize how stressful it can be to drive professionally. "
"One of the small yet rewarding parts for me is when you see a kid come up beside you who gets your attention and signals you to blow your horn. I remember being a little kid and being tickled to death by that. Another rewarding part of truck driving is helping out on interesting or critical projects. We haul a lot of rebar for bridge work, and I remember taking those loads through the Land between the Lakes for new bridges there. I believe that I'll be able to tell my kids one day that I had a part in helping build those."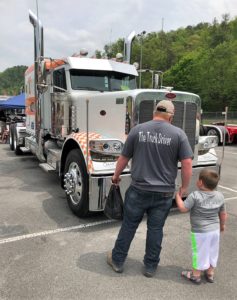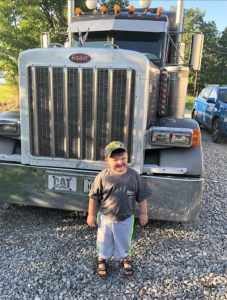 How long have you been a commercial driver and how did you get started in the industry?
"It all started with my dad who drove. He'd bring his truck home on the weekends, and over time I learned how to work on a tractor-trailer truck and fix basically anything from front to back. Roane Transportation was instrumental in helping me obtain my commercial driver's license, and I have been driving for roughly three years. I left Roane one time to go work for a different company and ended up coming back –this is home for me and this is where I need to work."
What advice would you give to someone straight out of high school that wanted to be a driver?
"Never act like you know everything. The day you quit paying attention to details and try to cut corners is the day you end up getting hurt or someone else gets hurt. There is never just one way to do something in the trucking industry, and you may find a way that you like to do things, but there could be a better way to do it."
What is the best thing about driving / What do you enjoy about driving?
"The freedom and knowing that you are providing for family at the same time."
With so many truck driving companies looking for drivers, what made you choose Roane Transportation?
"If I call the office, they know my full name; I'm not just a truck number to them. If I call with a problem, it's automatic; when I have an issue, they work with me to figure it out. I'll give you an example: I dropped a load in Commerce, GA today and instead of making me wait until tomorrow to get another load, dispatch found me one close by so that I can be home tonight. Roane Transportation really is a family and if I have an issue they help out. Also, the owner has a true open-door policy and is always available to talk if you need him. "
For those on the driving job search: Is truck driving a good career? Why? (Is being a truck driver worth it?)
"Truck driving is a great career if you're willing to put in your time and invest in your career. Starting out in truck driving can be rough. For my first year with Roane Transportation, I worked locally, and they trained me for the first few months and then I went over the road. My wife rode with me, and we basically lived in the truck for the first year. "
"Starting out, you must learn how to handle your money, especially if you are paid by the mile. Another great reason to drive for Roane is that they adjust your pay to help you when miles are low. You get kind of a salary if the miles are low to help you take care of you and keep you driving. I work Monday thru Friday, and if I work a weekend I get an extra day. I run hard and try to put in as many loads as I can because I know that if I help the company by working as hard as I can that they will be there for me when I need assistance."
From an outside perspective, it would seem like driving such a big truck would be nerve-racking. Can you tell us about a tenuous or stressful driving trip?
"There are so many situations where you get into tight spots. One of the scariest times I have been in was while I was driving north on 1-75 near Ringgold, GA. I got the red light which means I needed to pull into the scales at the weigh station. Everything was going well, and traffic was moving steadily through the scale house, and then everyone suddenly slammed on the brakes.  All I could do was slam on the brakes and get it over on the shoulder and had to maneuver between the wall and the truck in front of me. It was nerve-racking, but luckily there were no accident or traffic violation. "
"Every day, I say a prayer every morning that I make it back home or to a parking spot safely. Something as small as a tire blow out or a driver not paying attention and cutting you off could be disastrous. As a truck driver, you basically risk your life every day to make sure that everyone has everything they need, but that comes with the territory."
How do you stay focused when you're on the road for long periods of time?
"As you become a more seasoned professional driver you get into a certain mindset that you have a job to do and you have to keep the truck moving. You drive more with your mirrors than you do with your windshield 90% of the time and paying attention to everything on the road helps you focus on the task at hand. It's important to take care of your physical needs on the road too, so I make sure I eat when I'm hungry or pull over when I need to make a pit stop and that helps keep you focused."
What do you do when you aren't working?
"Well, I like to drive and work on automobiles and trucks. I also have three nephews that we spend as much time with as we can and who are a huge part of our lives. I stay pretty busy working on various projects with my father or my friends."
Who is a personal hero of yours and why?
"That would be my father. Whether he likes or not, he's the reason I do this. If I can be half the man he is, I'll be doing pretty good in life. He was an owner-operator pulling radioactive loads and sacrificed everything for me and my brother to have a happy childhood."
Do you have a nickname? If so, what is it and how did you get it?
"I go by "Tater" on the radio. I got that nickname from my third-grade teacher, although I don't really know how they came up with it. There are some guys at Roane that call me "Mountain Man", but I can't really remember how I got that either."
If you could turn any activity into an Olympic sport, what would you have a good chance at winning a medal for?
"Well, I haven't done any type of sports since the eighth grade, but if they had drop drawing I think I could probably do well there. Drop drawing is essentially where you take a jeep or raised truck, point it at a hill that's too steep to work up, gun the engine, and hope for the best. "
Think about your most memorable trip. Tell us about it?
"My most memorable trip was probably when my wife and I drove cross country from Texas to Colorado. We saw a lot of the US that trip. We drove up the backside of the Rockies went through Fire Valley to get to Wyoming and then drove back east to Kentucky. It's amazing how things change from state to state."
What is something you think everyone should do at least once in their lives?
"I'd say travel. Even though it sometimes annoying dealing with traffic, there are a lot of cities with really beautiful sights to see when you drive through them. For example, the city lights in Albuquerque, NM and Oklahoma City, OK are beautiful. The Rocky Mountains are also amazing to see in person."
Become a Truck Driver with Roane Transportation
At Roane Transportation, we put our drivers first and stand behind making home time a top priority company-wide. Roane Transportation offers a variety of flatbed driving options that guarantees we have the job you've been looking for. Learn more about driving for Roane Transportation by visiting our Drivers page. Contact us today HERE for more information or check out our online application if you're interested in a new driving career.