Roane Transportation is known for its transportation services throughout the Southeast and country-wide.  Their fleet consists of almost 100 Peterbilt and Freightliner trucks and keeping those trucks on the road is a vital part of the everyday operations within the company.  Our latest interviewee was with Jesse Nelson, the Head of the Parts Room.  Jesse is tasked with ensuring that mechanics have the parts they need to keep Roane's tractor trailers on the road.  We spent a few moments talking with Mr. Nelson, gathered insight on his work day and family life, and here is what we learned.

What is your occupation at Roane Transportation?
I work as the Parts Room Manager at Roane Transportation. I also work with the Maintenance department; the jobs go hand-in-hand. My day typically consists of running back and forth across the parts room making sure we have all the parts we need in order to make the trucks run. Along with these responsibilities, I prepare parts orders and look for best price on parts when the orders are placed. When mechanics bring the repair orders (RO) over, I carefully verify which parts the truck and the mechanic need. I spend a lot of time working with truckers to ensure their trucks are up and running smoothly. Sometimes, the situations can be tense.  For example, when a truck breaks down the truckers are understandably upset at this time, and I do my best to remain calm and provide the truckers with assistance quickly.
How long have you worked at Roane Transportation and what got you started in this company?
I have worked at Roane Transportation a total of eleven years and was given the recommendation to work here by a friend. The first time I worked with Roane, I started out as a forklift operator. When the parts room job became available, I was offered this job and was excited to begin the work, as it was something different to do. In the parts job, there is never a dull moment. At times, I have to come out of the parts room to help truckers, as well. I also have spent time helping Roane Metals in the scrap yard.
What is your training background, and how did you come to work as the Head of the Parks Department and Maintenance at Roane Transportation?
My job as a forklift operator prepared me for the work I did previously. However, learning the parts job was baptism by fire. I definitely learned on the job, by trial and error at times, and I am still learning.
What is the most challenging part of your job? What's the most rewarding?
The biggest challenge is keeping up with all of the parts, maintaining balanced accounts, and keeping track of the work orders. It can be a lot of paperwork, so we have developed a system for keeping everything organized in the parts room. Our parts department is growing all the time and learning how to keep systems in check. There is a total of two of us that work in the parts room during the week, and four people in total who work in the department.
It can appear to an outsider that your profession appears very detailed oriented. Do you feel this way?
I tend to be good with details for the most part, but sometimes mistakes happen. Since I am not a mechanic, I take a lot of photos to help communicate between the parts department, mechanics, and truckers. On site at Roane Transportation, we have eight mechanics who work relatively close with the parts department, so the conversations between us are fluid. When you called today, I was delivering a photo of a part that I had received a parts' request for to Napa Auto Parts. When I got to Napa, they knew exactly what I needed and were able to help me locate the exact part on the relay that the trucker needed.
What would you say to anyone wanting to go into this career?
In this field, you have to be tough. If you're not tough, it can be very hard to be in the environment. Not everyone who calls in requesting a part is in a good mood, as it could be their truck is not working, or they are broken down. I do my best to remain level-headed, kind, and deal with the calls as best as I can.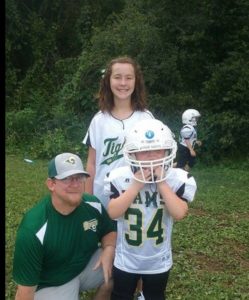 What does your family unit look like?
My family consists of me, my wife, Ashley, my daughter, Zoe, and son, Chevy. My wife works for Roane Metals in the scale house. She is the person that checks people in and is the first person you see when pulling in to sell metals.
How do you relax after a hard day of work?
I spend time fishing, hunting, and watching UT football (is there any other team to watch?). I also coach my son's football team, and I have to say, he is very talented at the sport!
Roane Transportation a Transportation Firm in East Tennessee
At Roane Transportation, Jesse Nelson is an integral part of our team. We value his hard work, dedication, and commitment to making sure our trucks are running smoothly and efficiently. If you're interested in a career with a company that truly cares about its employees, contact us online or fill out an online application today.